HERE ARE JUST A FEW DESIGNS...
Most of the designs mimic antique oriental carpets as you can see in this picture of the "Persian Bidjar". But there are several South Western" patterns and a few "Modern" designs to choose from. And of course you can always design your own.
Chinese designs like this "Basket of Flowers" are "Carved" for an embossed texture.
The close-up on the right shows this sculpting much clearer.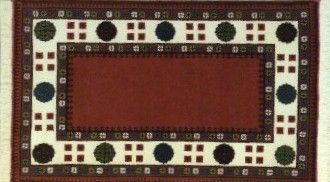 This "Talish" is a Caucasian design.



Feel like making a Rug???
e-mail me at; needleandknife@snet.net